Founding members

& strategic partners
Founding members & strategic partners
The AI Park is currently backed by 13 renowned founding members and strategic partners from the sectors of business, research and politics. This alliance brings together a broad range of expertise to drive innovation in the field of artificial intelligence. Together, they lay the solid foundation for realising the ambitious goals of the AI Park.
The AI Park connects people and their ideas and offers them innovative platforms to work together on forward-looking AI solutions.
The foundation of our AI Park ecosystem is formed by our current 13 founding members and strategic partners. These stakeholders represent the top sectors of business, research and politics. They contribute their expertise to the strategic design of the AI Park through the Board of Directors.
KI Park e.V. now has well over 100 members and - as an open network - is continuously accepting new members as well as new strategic partners.
Voices of our member companies
Below you will find selected statements from our members and advisory board members who provide insights into their visions and contributions to the KI Park.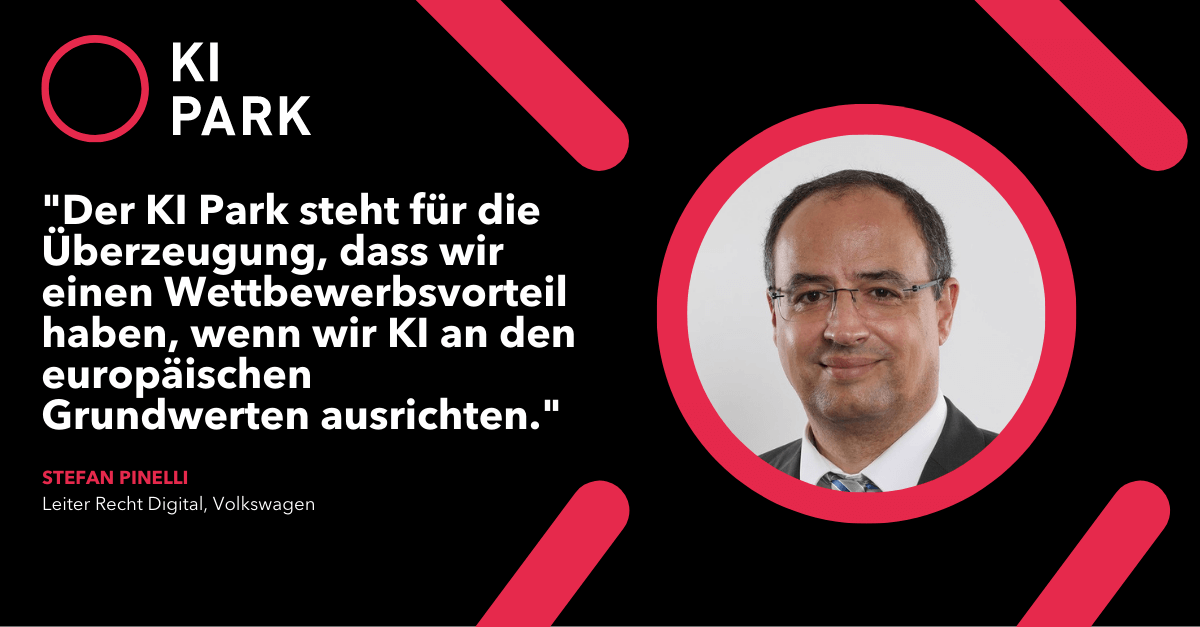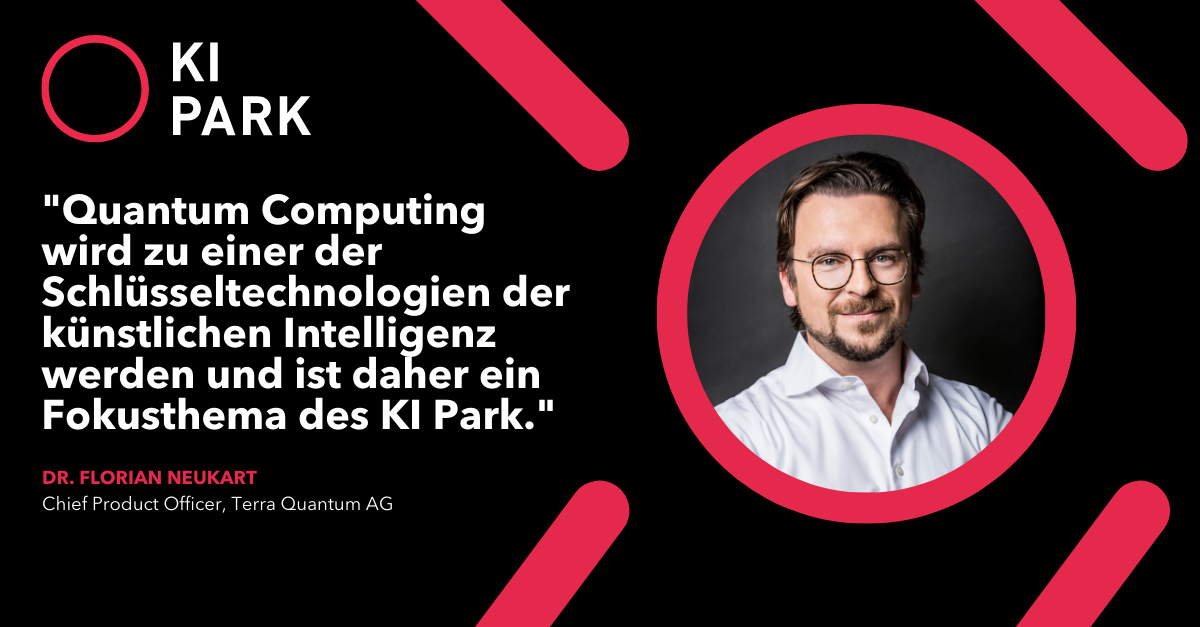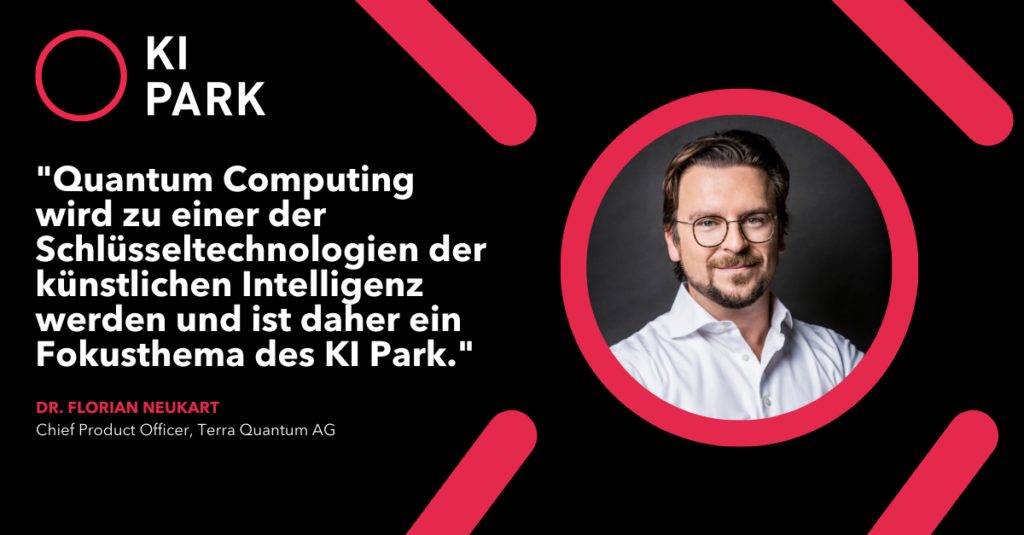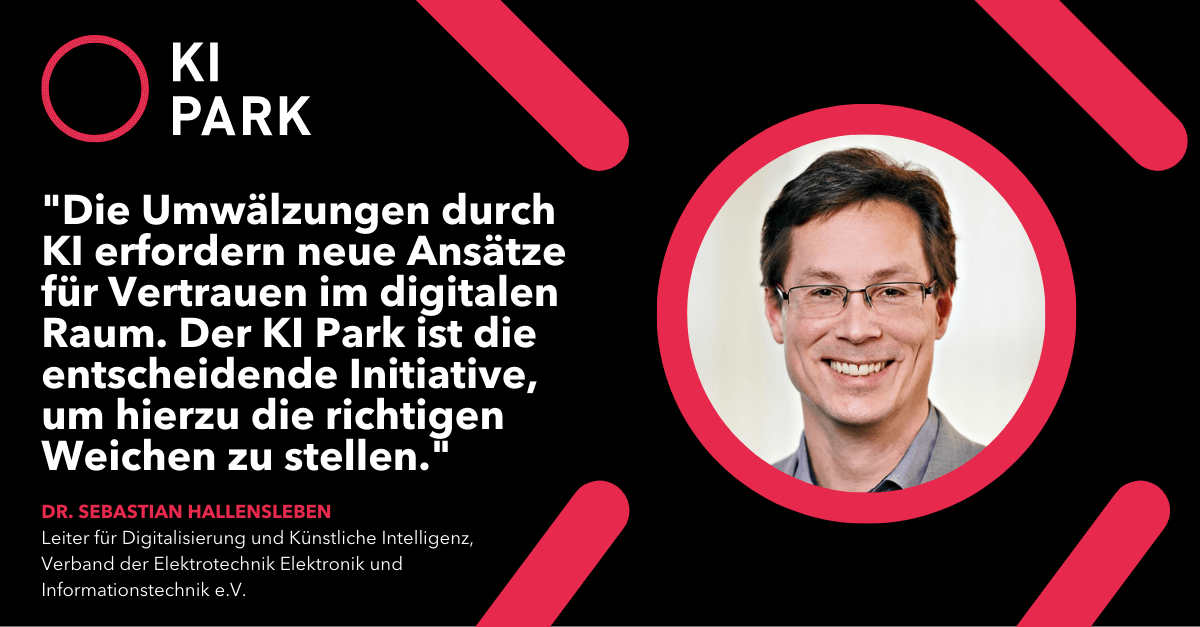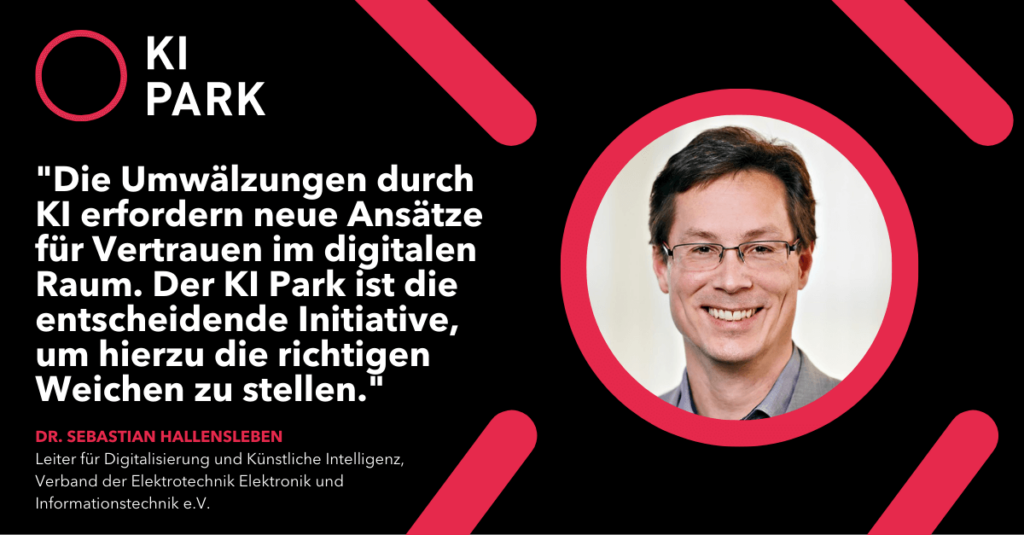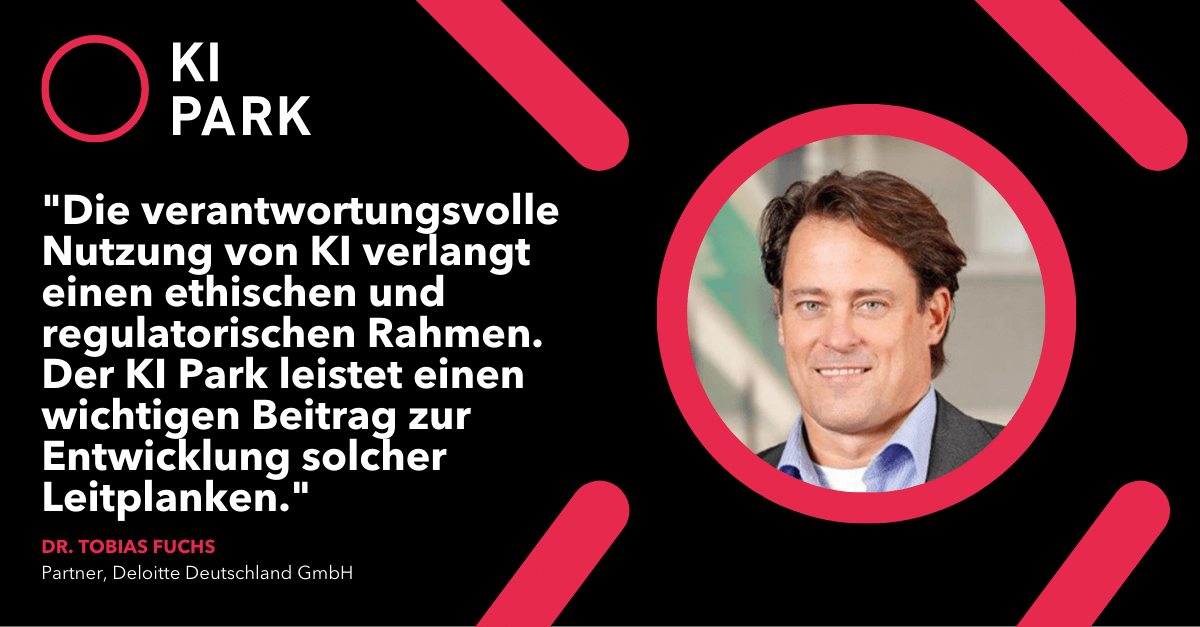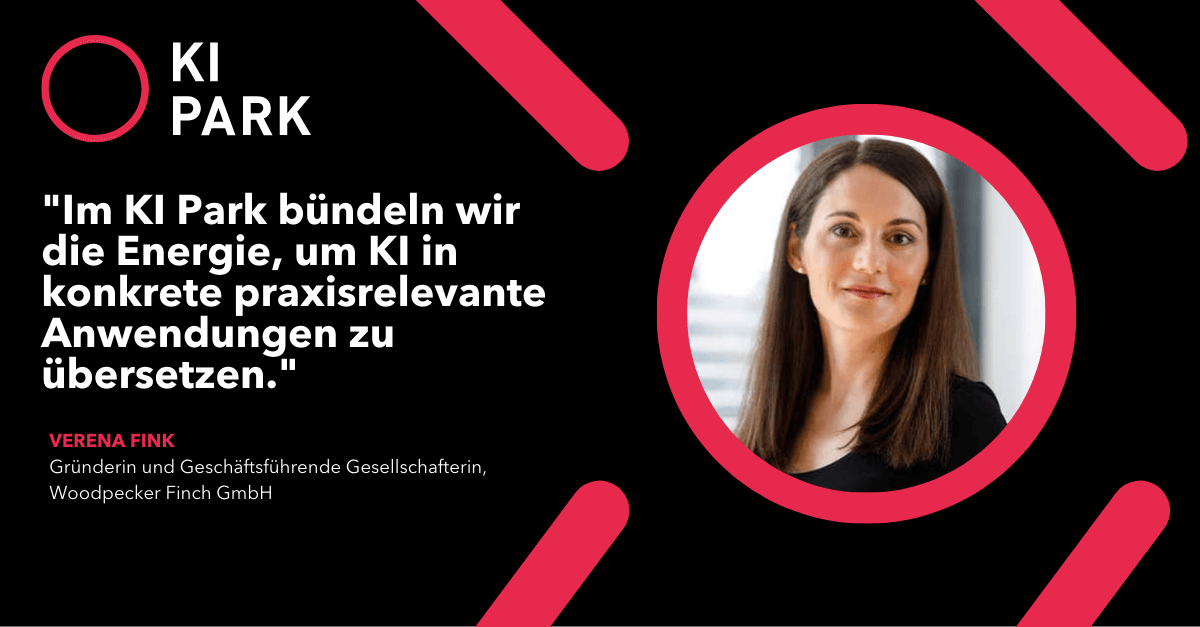 FOUNDING MEMBERS & STRATEGIC PARTNERS
Below we introduce you to the founding members and strategic partners who together are the driving force behind our ambitious goals in the field of artificial intelligence.
Celonis is a specialised company in the field of process analysis and optimisation. It offers software solutions that help organisations to analyse their internal business processes in depth, effectively identify bottlenecks and thereby identify opportunities to improve efficiency. Through a data-driven approach, Celonis enables companies to evaluate their operational processes on an objective basis. The software not only uncovers weaknesses in business processes, but also provides targeted suggestions for optimisation. In the business world, Celonis has established itself as a renowned tool for process optimisation and contributes significantly to increasing the productivity and efficiency of organisations.
As a globally active consulting and auditing firm, Deloitte offers a comprehensive range of professional services. These range from audit and tax to risk management and business advisory services. Deloitte partners with a wide range of companies, governments and organisations on a global scale to provide specialised expertise and tailored solutions to complex business problems. Deloitte is particularly renowned for its extensive expertise in the service areas it offers and aims to help clients optimise their business operations.
Diamant Software specialises in the development and implementation of software solutions for different business sectors. The company places particular emphasis on the adaptability and scalability of its products to meet a wide range of customer needs, from small and medium-sized enterprises to large corporations. With a focus on quality standards, Diamant Software offers robust and easy-to-use tools that help companies automate processes, analyse data and make decisions. By combining technical know-how and industry expertise, the company strives to give its customers a decisive competitive edge.
Friedrich-Alexander-Universität Erlangen-Nürnberg
Friedrich-Alexander-Universität Erlangen-Nürnberg (FAU) is one of the most traditional and renowned higher education institutions in Germany. Founded in 1743, it is one of the oldest universities in the country and has campuses in Erlangen and Nuremberg. Its diverse range of courses covers a wide range of disciplines, including natural sciences, humanities, engineering and medicine. Particularly noteworthy are the extensive research activities and the highly qualified faculty. With its long history and ongoing commitment to the educational landscape, FAU plays a central role in the German education system.
GAULY is a management consultancy focusing on strategy and communication in Germany. The company enjoys the trust of CEOs, members of the board of directors and supervisory board as well as owners and communication officers in strategic planning and communication design. Specialising in critical success situations, GAULY aims to establish and consolidate sustainable acceptance and support in the stakeholder environment. The team of experts, consisting of consultants and senior advisors, works for global corporations and DAX-listed companies as well as for family businesses and medium-sized companies.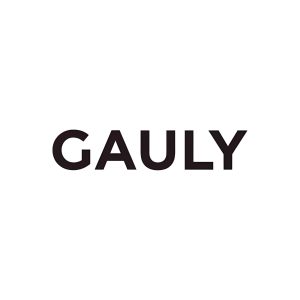 German Entrepreneurship shapes the future through innovation as a partner of start-ups, investors, companies, universities and public organisations. German Entrepreneurship supports European and international start-ups with targeted programmes such as the German Accelerator, Scaler8, EU-India Innocenter, Master Accelerator and Scale-up.NRW. With a global network of experts, more than 1,000 start-ups have been supported since 2008 - including 10 German Unicorns such as Flixbus and Celonis. For DAX-listed companies and SMEs, German Entrepreneurship has already successfully implemented more than 500 innovation projects - from innovation coaching to group-internal accelerators. German Entrepreneurship has offices in Munich, Berlin, Düsseldorf, Singapore, Tokyo, Silicon Valley, Boston and New York and works closely with partners in India and South Korea.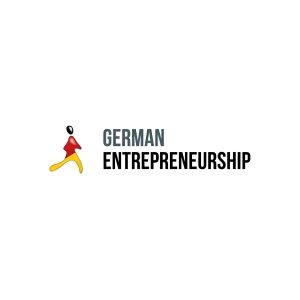 Humboldt-Innovation connects science, business and society with services in the areas of applied research, science-based start-ups, continuing education and events. As a 100% subsidiary of Humboldt-Universität zu Berlin, it makes university research, innovations and resources available.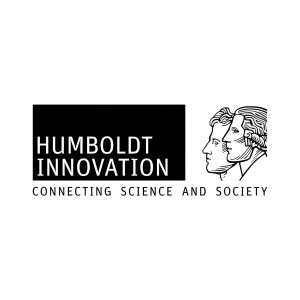 nvesta Real Estate is an industry leader in real estate, specialising in the acquisition and sustainable management of commercial and residential properties. With a strategic approach based on in-depth market analysis and a vision for long-term growth, the company creates lasting value for its investors. The focus is on designing innovative living and working environments. An interdisciplinary team continuously analyses trends and market changes to create environments that promote productivity and efficiency. This is done on the basis of a balanced mix of comprehensive experience and future-oriented strategy. The bold implementation of new ideas, supported by the accumulated expertise of a dedicated team, underlines the company's entrepreneurial ambition to generate long-lasting value.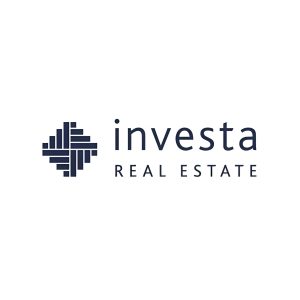 Schaeffler is an internationally active company in the automotive and industrial sectors that stands out for its technical expertise and the quality of its products. With a long history and broad market coverage, Schaeffler develops and manufactures mechanical components for a wide range of applications. These range from the automotive sector to industrial automation. The company's focus is on providing solutions to technically demanding challenges, thereby cementing its reputation for high-quality automotive components.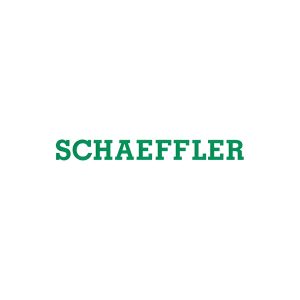 Science&Startups is a platform focused on fostering collaboration between scientific research and entrepreneurship. It provides a neutral and resource-rich environment where scientists, researchers and budding entrepreneurs can share their expertise and ideas. The aim of Science&Startups is to facilitate the exchange of knowledge in order to promote innovative projects and start-ups without falling into excessive marketing approaches. The platform offers support for the translation of research results into practice and promotes the emergence of new companies in the field of science and technology.
Based in Germany, the VDE (Association for Electrical, Electronic & Information Technologies) operates as one of the world's leading institutions in the fields of electrical engineering and information technology. As a non-profit organisation, it is a central player in the development and standardisation of technologies. With a dedicated commitment to technical safety, quality standards and innovative strength, the VDE provides an important platform for knowledge exchange, product certification and the development of standards. Through these activities, the association receives international recognition and makes a significant contribution to technical safety and further development.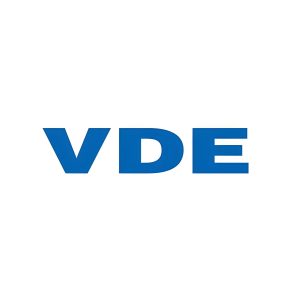 Headquartered in Germany, Volkswagen is a global automotive manufacturer known for its diverse portfolio of vehicles, ranging from passenger cars to commercial vehicles and electric vehicles. As one of the largest and longest-established institutions in the automotive industry, the company has an extensive network of production facilities and distribution channels worldwide. With an enduring commitment to innovation and technological advancement, Volkswagen is cementing its place as a pioneer in the global automotive industry.
German-Swedish Chamber of Commerce
As an independent organisation, the German-Swedish Chamber of Commerce is dedicated to promoting and strengthening economic relations between Germany and Sweden. The primary goal is to support companies from both countries in exploring new business areas as well as navigating the complexities of international trade. With a wide range of information, resources and events, the Chamber of Commerce facilitates the efficient exchange of knowledge and experience. Its efforts focus on practical cooperation and shaping a constructive environment conducive to economic interactions between the two nations.