Room booking at the KI Park Berlin
Are you planning an event and looking for an inspiring environment? Our Workshop & Event Space in the heart of the Innovation Campus in Berlin offers an innovative and creative atmosphere that is ideal for exchanging ideas and promoting innovation. As a community space for AI Park members, it offers space for exchange with start-ups, research institutions, companies and technological pioneers. Use our form to submit a booking request. We look forward to welcoming your event in this unique environment!
Step 1: Check availability

Thank you for your interest in our Eventspace. In order to make the planning process efficient, please check availability for your preferred date.
Step 2: Submit a request for AI Park Space
Is your desired date still available? Please use the form below to let us know what your requirements are for our Event & Workshop Space and how we can best support you in preparing your event.
For further information or if you have any questions about booking a room, please contact Lupine Sargsyan.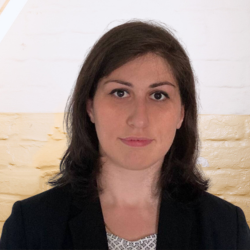 LUSINE SARGSYAN
Network & Events Manager